If you are a FTM transgender guy looking for love, you got to check out a trans dating site or a transgender dating site. Once you've figured out which transsexual dating site serves the best purpose for you, the next step is to then get registered on that site and start communicating with potential love interests. As a trans guy, you are also vulnerable to threats and abuse online. In order to address this issue and have a secure internet network, you must consider looking for the best VPN service around. A Virtual Private Network service can ensure a fully private connection.

Being a FTM transgender guy is not that easy. Transitioning is such a challenging process and it saps so much of your physical and mental energy. While you are transitioning and even after that, your mind is preoccupied with the procedure. It's like you whole word has turned down upside down. You are excited, confused, exhilarated, euphoric, scared, everything in one go. It is natural that when your mind is a site of such conflicting emotions, it is difficult to give your 100 percent to dating and relationships. But that aspect of your life is also important. Everybody needs a partner for their physical, mental and emotional fulfilment.

As a FTM transgender guy, it is important to keep certain things in mind before you start dating someone. Whether you've met them through a trans dating app or a trans dating app, it's important to make sure that your concerns about your own life trajectory do not interfere with the course of your dating and relationship.

Here are a few tips that will help you navigate the complex waters of dating and a relationship as a FTM transgender guy.


Do Not Let Your Transitioning Process Overtake the Relationship

For a FTM transgender guy, transitioning is mentally and physically demanding. It can be very intense and can leave him with little or no energy to concentrate on anything else. But he has to be really tough and tell himself that his relationship is also a priority and he will give full attention to it even during transition.

A FTM transgender guy is very lucky if their partner is compassionate and understanding. But one cannot take undue advantage of that understanding. You have to realize that it cannot be always about you and your issues. A relationship works well only when it is about both individuals. Even during transitioning, spend quality time with your partner. Pay attention to their life, goals and achievements. All your conversations cannot be centred around the issue of your transitioning and identity. If that is your only topic of conversation, your partner will feel neglected at some point in time. And the whole relationship would become a drag and a burden.

So, create some boundaries and respect those. Maybe your partner had a super exhausting day at work. Maybe, they just need to relax a little and hear some kind and loving words from you. So be considerate of their needs and behave accordingly. Converse on some lighter topics to lift up their spirits. Just watch a movie together or listen to some music. Your partner has invested a lot in this relationship and they are as concerned about your transitioning as you are. But you have to remember that their needs and desires are also important.

So as a FTM transgender guy, just try to create that fine balance. Don't get over obsessed with your transitioning woes. Have empathy and understanding for your partner, just like they care for you and your life.


Avoid Over the Top Masculine Behaviour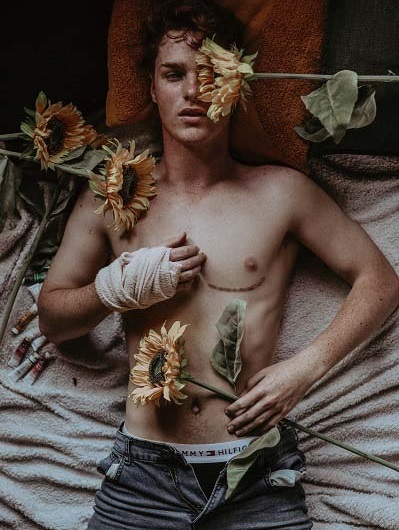 Some FTM transgender guys get really conscious about their masculinity. They want to fit as well as they can into the societal normative framework of masculinity and in order to do so, they often resort to stereotypical masculine behaviour. Resist the urge to do so.

Exhibiting over the top masculine behaviour like shouting at your partner or trying to dictate terms to them or refusing to do households chores can actually backfire and eventually ruin your relationship. Masculinity is attractive only as long as it is balanced and rooted in rationality. In this modern-day and age, nobody wants to be with a guy who is over-aggressive, ruthless and gets into a temper every now and then.

When you are in a relationship, it is equally important to lay bare your vulnerabilities. The tough guy act doesn't always work. If you are overwhelmed, it's alright to cry in front of your partner. If you have said something wrong to them or done something wrong, it's alright to apologize. All these things will not make you any less of a man. On the contrary, your partner will respect and love you even more for being the kind and compassionate guy they always dreamt of.

Times are changing fast and so is the definition of a real man. A real man of the 21st century is gentle, kind, considerate and is not afraid to show his vulnerable side. He is as tough a soldier when it comes to protecting his partner or lover and taking care of them. But in his day-to-day demeanour, he is gentle and loving, not imposing. Once a FTM transgender guy understands all this, he will realize there is no need to resort to over-the-top masculine behaviour.


Join a Transgender Forum

A transgender forum is a valuable resource dedicated to the trans community. It has a lot of information and views on typical issues faced by transsexual people across the world. So, a transgender guy just about to start his dating life should definitely consider joining a transgender forum.

A transgender forum can also connect him with other members of the trans community. As a FTM transgender guy, you can always learn from their experiences. You can also read some specific articles on transgender dating written by experts. Alternatively, you could also go through a transgender blog that will again offer you valuable insights into the world of trans dating.

Before you join a transsexual dating site or a transgender dating app, it's better to be equipped with some basic knowledge of how you should go about communicating with a potential love interest. The internet these days has a plethora of valuable resources that can be of valuable help to a FTM transgender guy looking for a potential date.


Communicate Your Concerns


Whether you've started seeing someone through a transgender dating app or a trans dating site, it is obvious that as a FTM transgender guy, you have some concerns. Feel free to share those concerns with your partner.

You have some emotional concerns with regard to how your partner perceives you, how they view your transitioning and if they judge you for being a FTM transgender guy. You might even feel awkward about sharing such concerns with your partner. But it's absolutely fine. When you are in a relationship with someone, you have the full right to know if they are comfortable with your individuality and identity.

Unfortunately, society doesn't judge transgender people very kindly. So, it is obvious that as a FTM transgender guy, you have some apprehensions about whether your partner is really comfortable with your identity. Just talk it out. Talking about these things will make your relationship even stronger. Or in the worst-case scenario, you will realize that you are not with the right person before you go too deep into the relationship. Both ways, you will benefit.

It is also important for a FTM transgender guy to communicate his sexual concerns to his partner before they decide to take the relationship to the next level. Tell your partner candidly about things that you are comfortable about and those that you are not so comfortable about in a physical relationship. If there are certain body parts you don't like being touched, just tell them categorically.

Whether you've met someone through a transsexual dating app or a transgender dating site, it's important to have an honest conversation with your partner before the two of you decide to go physical.


If It Doesn't Work, Just Walk Away

Not all relationships are meant to work. Let's accept it. Finding love often involves a series of hits and trials. So as a FTM transgender guy, if you've tried your best to make the relationship work but it still isn't, then it's perhaps better to quit.

Quitting can be very painful, especially if you have so many fond memories with the person concerned. But when a relationship turns toxic and abusive, there is no other way out. Some relationships start out very well but turn toxic down the road. There are others where you get warning signs from early on that this is not going to work for you. Whatever be the scenario, it's better to just leave when you realize that a relationship is becoming a source of agony and pain for you.

At the end of the day, your peace of mind and mental health is most important. While a good relationship can do wonders for your emotional and mental health, a bad one can ruin you mentally. As a FTM transgender guy, you already have a lot to cope with. Maybe, you are still trying to sort things out with your family. Not all your friends have accepted your new identity yet. So in between all this mess, you really don't want to suffer a toxic and abusive relationship. And you don't deserve that either.