Embracing the Journey from Female to Male
Sep 29 '20 | By
Serenity
| Views: 967 | Comments: 0
Gender is a societal construct. It enables people to assign a particular set of characteristics and attributes to a person based on their biological makeup. Many people think gender is biological. But it is simply not. There are people who are born as female biologically but they identify with the male gender. They begin to experience gender dysphoria at some point in time.

Those who experience gender dysphoria get abrupt mood swings; they get anxious for no visible reason at all. Life becomes very difficult for them as they are unable to fathom the source of their unhappiness. They are often diagnosed with mental illnesses and put on medication.

It is only when they realize that the source of all their agony is their biological gender which is different from the gender, they mentally identify with that they start considering some action to live the life they have always wanted to live.

Not all of them take the path of surgery to transition from female to male. Some try to change their look and appearance by dressing and overall behaviour. Irrespective of their biological makeup, they come out as a man in front of society.

But many choose to medically transition from a female to a male. A medical transition increases their chances of passing off as a male in society by multiple times. It also makes them somewhat less vulnerable to societal discrimination and abuse as they develop the outward manifestations of the gender they mentally identify with.

Gender Reassignment Surgery enables this transformation from female to male. There are many components of this surgery. There is the Mastectomy or top surgery that is typically the first surgical procedure performed on somebody who wants to transition from female to male. Many people opt just for Mastectomy and escape other procedures altogether.

Mastectomy helps in getting rid of the unwanted breast tissue and gives your chest that flat, manly appearance. There are a number of techniques involved in this procedure. Depending on your body structure and the results that you are looking at, a combination of these techniques may be utilized.

Then, there is the bottom surgery known as RFF Phalloplasty. In this surgery, the skin and veins from the forearm are used to construct a male phallus. There is another technique known as ALT Phalloplasty that can also be used to create a male penis. This technique utilizes skin and vein from the thighs instead to construct a male phallus.

Then there are other procedures also which a person transitioning from female to male might choose to undertake. There is Facial Masculinization Surgery and there is Body Masculinization Surgery.


Facial Masculinization Surgery has a set of procedures that can be used to give a more manly and chiseled appearance to the face. Body Masculinization Surgery is ideal for those who want to transform their body type to a more masculine type. It is a kind of liposuction technique that reduces a feminine hourglass figure and creates a masculine physique. This procedure can get you quite close to the ideal male figure that includes broad shoulders, trim waist and very less body fat in the lower body.

The medical procedure is just a part of transitioning. Transitioning from female to male is a complex process that has a social and psychological angle to it. You have to totally transform your identity in front of society. And for that, you have to mentally very strong, confident and be proud of your new identity.

There are a couple of tips you can follow in order to make your journey from female to male easier and less hassle-free.


Be Proud of Your Identity

You have to accept yourself before other start accepting you as a man. Societal discrimination and apathy are a part and parcel of transitioning. Do not let that intimidate you. You have to tell yourself that it's perfectly normal to identity with a gender that is different from the one assigned to you at birth time.

Once you are comfortable with your identity, it's important to go even a step ahead and celebrate it. Remember that you are unique and different. And it's the habit of society to criticize everything that is unique and out of the box. But once they realize how valuable that thing is, they get crazy about it. That's the way society works. So, once you start becoming proud of your identity and begin to revel in it, societal apathy will mean nothing to you.

People who are trying to make you conscious will shut up because you are not getting conscious! Accepting yourself is the first step in your journey of transition from female to male.


Begin Your Transformation by Coming Out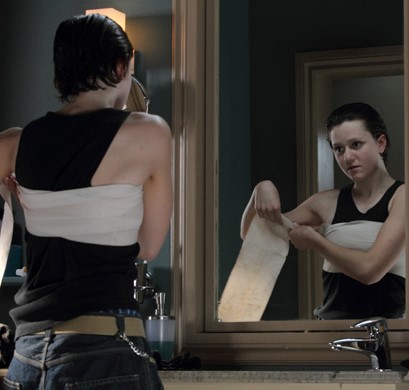 People in your immediate circle need some time to get used to the male you. Your new life as a male might be unexpected for your friends and family, even if they support your decision. So, start by coming out as soon as you can. Take folks who are close to you into confidence. Tell them clearly about your newfound identity and the life you are going to live from now on.

This might be difficult because you might have a family that has issues with your identity. You are probably scared that they will not accept this. Well, you have to learn to be a bit tough here. It's your life and your choice. You can try and convince your family for sure but you have to be willing to go solo. For someone who has a woman's body biologically, declaring that from now on, they are going to live and behave like a man in front of their family is not going to immediately get them the understanding they deserve.

Your family might be even hostile to you when you come out in the open. So be prepared for anything. It is very important to have a set of people who genuinely support you and your identity. These people will become a bridge between you and society. They can be your friends, relatives, family members, anyone.

But it's important to come out in the open with your identity because even after your transformation, your friends and family will take time to get used to the new you. Social acceptance will be a slow process. You have to just keep going on. Do not be disheartened by temporary troubles or roadblocks. As long as you are consistently embracing your new life as a male, it's all good.


Start Dressing and Behaving Like a Guy


This is a very important component of your transitioning. Even if you are mentally prepared to undergo a transition and have come out in the open, it can be very difficult to discard those old mannerisms you have been so used to.

You feel like a guy. You know it in your heart that you are a man. But if you continue to dress in women's clothes, people around you would obviously not accept your masculinity. So, it is important to change your outward appearance too.

Begin to dress in men's clothes. Start observing the behaviour of guys around you. Pay attention to their facial expressions, body language, the way they walk. These little cues will help you learn how to project a masculine image.

The internet too can give you a lot of information on how to incorporate masculinity in your day-to-day behaviour. For buying men's clothing, check out what other guys on the street are wearing. And then pick clothes that would suit your appearance and build and would highlight your masculinity.

You might feel a bit awkward at first but if you keep at it, you will soon get used to it. And there will come a time when behaving like a man will come naturally to you. It won't seem like you are acting or trying too hard. You already felt like a man in your heart. But with time, you will automatically start behaving like one externally as well.


Look for Professional Help

Your physical transformation is a very important part of transitioning. Of course, whether you want to undergo a medical transformation or not is totally your call. But if you are constantly anxious about not looking like a man enough physically, then surgery can help you get rid of that confusion.

You should first consult a therapist who would help you figure out the emotional and psychological problems you might be going through. The idea of transitioning from female to male can throw anyone's mind into chaos and confusion. It's a difficult state to be in. Your body is craving for an identity that is different from the biological identity assigned to you at birth. All this can get very complicated for your mind. So, a therapist will help you with the emotional and mental aspect of your transitioning.

Then you should look for a reputed and professional doctor who can offer you the best advice on the probable route you should follow for physical transformation from a female to male.
Our website is made possible by displaying online advertisements to our visitors.
Please consider supporting us by disabling your ad blocker.