Facial hair is considered an attractive part of masculinity. The stereotype of the super ripped and rugged hyper-masculine guy with that formidable beard is like the main stuff of masculine folklore. But times are changing and the metrosexual guy with just a bit of stubble or even no facial hair is making his presence felt. Many trans guys still seem to be stuck in the age-old complex though that it's mandatory to sport facial hair in order to look like a guy.
Nothing can be farther from the truth. How many cis guys you have seen who have facial hair? Not all of them obviously. There is a certain percentage of cis guys who have prominent facial hair while others might have little or none. While growing facial hair will certainly complement your appearance, it shouldn't be like a do or die situation.
Because of the enormous pressure that trans men face in order to grow facial hair, a number of myths have sprung up regarding this. When you are desperate for something, you become vulnerable and then you are prone to trying out anything that promises you the thing you are after.
This article sets out to debunk certain myths about how to grow facial hair in transgender men. Let's take a look at these myths one by one.
Myth – Certain Facial Products Can Help You Grow a Beard
Reality Check
There are many claims circulating around those facial products like Minoxidil can help a FTM transgender guy grow a beard. In fact, these claims propagate those particular facial products can actually play an important role in the growth of facial hair. The reality is there is absolutely no scientific basis to these claims. There is no evidence to support these claims. As a matter of fact, facial hair growth is largely determined by genetics. Look into your family history and see if your father or uncles sport a beard. It is largely your genes that determine the extent of your facial hair growth.
As a FTM trans guy, it's very easy to fall into the trap of such a myth because you are obsessed with the idea of growing a beard. It's obvious that you are willing to try out anything that promises you one.
But you need to use a little bit of rationality and common sense and realize that a beard will not grow overnight by some magic wand of a product. Just trust your doctor. If you are undergoing hormone replacement therapy and your genes support the growth of facial hair, you will definitely see results soon. Just have patience. Growing a beard takes time.
You have to be prepared for the scenario that you might not develop any facial hair at all. Don't let this impact your self-esteem. There are so many other markers of manliness. As a result of medical transitioning and hormone therapy, your face is looking more masculine, you are developing muscles and you are confidently embracing men's clothing. Celebrate all these wonderful things about your masculine identity rather than fretting about something that's not in your control.
Myth – Taking Testosterone Promotes Facial Hair Growth
Reality Check
Reality check – Now, this is a very dangerous myth. It can actually have hazardous consequences on your health. The male hormone testosterone should be only taken in quantities prescribed by the doctor. If you overdose yourself with this hormone, it might have serious complications for your health. Testosterone by itself does not promote hair growth. Do not fall into the trap of making this simplistic cause and effect analysis that since it's the most important male hormone, taking more of it would help you develop typical make characteristics like facial hair. If that were the case, all cis guys naturally having a high level of testosterone would be walking around with long beards!
The testosterone dosage that you are given during the Hormone Replacement Therapy, that itself will sufficiently aid the development of facial hair if your genetics support it. If you are unable to grow a beard, that's alright too. Don't risk your health and well-being for something that's clearly beyond your control.
More importantly, don't let superficial characteristics of masculinity determine your self-worth. Your identity is a lot more than a beard or facial hair. It's more important that you feel like a man. Start dating someone through a trans dating site. Being with a woman who admires you and finds you attractive would make you feel way manlier than any amount of facial hair could ever do.
If you are still unhappy about not being able to grow a beard, check out trans male icons on the internet. You could check out their profiles on social media sites like Instagram. By taking a look at their personalities and style statement, your own sense of self-worth as a FTM transgender guy will increase manifold. And you will also notice that not all of them sport beards and yet, they are some of the hottest and most sought-after men around!
Myth – Shaving Promotes Beard Growth
Reality Check
This is yet another myth doing the rounds. Many FTM trans guys seem to think that shaving more and more would make their facial hair grow faster and thicker. Nothing can be farther from the truth. There is absolutely no scientific evidence to support the claim that shaving promotes beard growth. On the contrary, it will just ruin whatever little growth you have. So, if you are growing a beard at a super slow pace, just be patient and you will see some results sooner or later. Do not rush into shaving.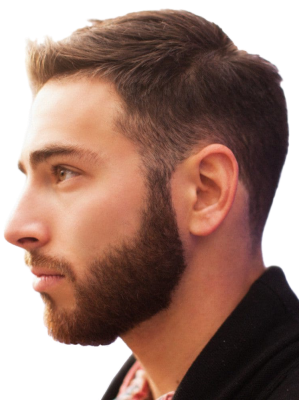 This point cannot be reiterated more that do not make facial hair growth an ego issue. It is not the ultimate sign of your masculinity. Embrace other manifestations of your masculinity like dressing, grooming, dating, relationships, etc. Check out specific avenues for trans men dating. Do not let something as arbitrary as the absence or presence of facial hair define your masculinity.
If you are unable to grow a beard and are totally freaked out and traumatized, consider joining a transgender forum. Talk to other FTM transgender guys out there. Mutual sharing of experiences would help you understand that it's not a big deal to be not able to grow facial hair.
If nothing works out and not being able to grow facial hair is making you feel depressed and miserable, you could consider getting a facial hair transplant. Many medical establishments offer this surgery and it is getting increasingly popular. Although, it is strongly advised that a FTM transgender guy waits for at least a year after the initiation of hormone therapy if they are considering a facial hair implant. This would enable the surgeons to give you a more targeted treatment and concentrate on regions in your face that are in maximum need of facial hair.
Although before taking any decision, you must do ample research from your end regarding the details of this surgery or if there are any possible complications or side effects. Only after you've undertaken a comprehensive and impartial assessment from your side, should you reach a final decision. Take your doctor into confidence as well; the one who is giving you hormone therapy. To be honest, they are the best person to advise on this matter that you need a facial hair transplant or not.
Beard Transplantation is also a popular technique within plastic surgery. Many cis men who are unable to grow a beard because of their genetic characteristics but desire one also opt for this procedure. Although the disclaimer for all these procedures is that you need to ideally have sufficient healthy hair on your scalp because that's from where the hair is taken.
If you are a FTM transgender guy wanting to grow a beard and your genes do not favour it, you could consider these cosmetic surgery procedures. But you have to be very careful and make sure that such a treatment does not interfere with any other procedures you are undergoing, as part of medical transitioning. Give it some time. Do not take a decision in a jiffy.
Try and focus on other aspects of your masculinity. Exercise, eat well, maintain good personal hygiene and just generally be well-groomed. This routine, along with the hormone replacement therapy should work well for your masculine appearance. Some people even choose to undergo facial masculinization surgery in order to make their faces more masculine and chiselled. If you still think that beard is an inseparable part of your masculine identity, consider a facial hair transplant. But weigh the pros and cons well before deciding to undergo the procedure. Also, make sure you are getting it done from a reputed place where the surgeon has expertise in this particular surgery. Always check out the reviews of a medical establishment before you choose it for treatment. Try finding out if there is anyone from your own circle of friends and acquaintances who have opted for a beard surgery. Ask for their feedback and review.