Identity crisis is more common in transgender people than we think. When a trans man comes to grips with his new identity and starts the process of transitioning, it can be a tough road ahead. He might feel vulnerable, confused, exposed and even scared. It's like embracing a whole new world. You know for sure that it's your world but still, a number of conflicting emotions continue to haunt you. Before they figure out their real identity, this crisis is even more acute. A trans man is bewildered and exasperated because he doesn't understand what could cause him such acute unhappiness and distress.
The fact that society doesn't view transgender people in a great light doesn't quite support your cause. In fact, it accentuates the agony and suffering of a trans man. The identity crisis that a transgender man typically goes through is known as gender dysphoria in medical jargon. Gender dysphoria refers to the psychological state when a person's real gender identity is different from the one assigned to them at the time of birth. That is, their actual gender identity is different from their biological identity. Gender dysphoria is what makes many transgender people opt for medical transitioning in the first place. Post transitioning, gender dysphoria would gradually get resolved. But it doesn't disappear overnight. A trans man might continue to experience dysphoria during transitioning and after it.
But there is nothing to be scared of when you face an identity crisis. With the right approach, a trans man can successfully defeat such a crisis.
This article gives you a couple of suggestions as to how you can cope with an identity crisis as a transgender man.
Recognize the Crisis
Human beings have a habit of evading issues. We often think that by pretending an issue doesn't exist, we can get it out of our heads. But that is unfortunately not the case. A psychological issue will continue to haunt until it is resolved. For transgender men struggling with an identity crisis, it is imperative that they recognize the crisis first.
At such a time, thinking may seem like the last thing we want to do. But be courageous and try to figure out what exactly is happening. Is this crisis unique to you? Or have other members of the transgender community faced this crisis at some point in their lives? Ask yourself these questions. Do internet research to find out what is the exact name for this crisis. It is gender dysphoria and once you've figured that out, you will be in a better position to address the crisis.
Visit a transgender forum online and start a conversation with other trans men on that forum. Talking to like-minded individuals who are in the same boat as you are would give you a better understanding of your own situation.
Resolving the Crisis through Transitioning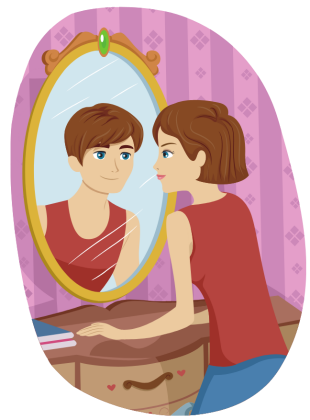 Now, this is a fairly personal decision. But once a trans man has figured out that they are experiencing gender dysphoria, it is important to think of ways and means to resolve the crisis.
For many trans men, social transitioning might do the trick. That is, they begin to come out as a guy by confidently embracing the dressing style, body movements and behavioural characteristics of guys. Others might seek the route of medical transitioning. In fact, most transgender men do undergo some sort of medical transitioning. According to research, medical transitioning resolves the issue of gender dysphoria to a large extent. Through hormone therapy and other treatments, it makes a trans man's biological identity almost similar to his gender identity, thus making it easier for him to date the opposite sex and socially embrace his new life as a man.
Identity crisis can pop up any time though. A trans man has to constantly deal with the apathetic attitude of society, bordering on hatred. This makes him vulnerable to such a crisis even well after transitioning. He finds it difficult to settle down his particular identity because society is constantly telling him the opposite. And this can make him question the gender identity of his choice again and again.
It's a tough battle out there but the important thing is to just keep going and understand that the identity crisis is a temporary phase. You might feel like it's the end of the world. But the good thing is you will come out even stronger and more awesome post this phase. So never give up on your identity and rights.
Consider Dating
As a trans man, dating and relationships are an important part of your life. We all need love. So, consider joining a transgender dating site to look for your soulmate. Dating is a great stress buster as well. Even as you are chatting with a number of prospective love interests online, it gives you something to look forward to. Dating creates immense positive energy and gets you out of the complex of self-doubt and anxiety.
Seeking out a romantic partner might seem like the last thing you want when you are undergoing an identity crisis but once you take the plunge, it can end your crisis for good.
It's a psychological factor that indulging in pursuits that make us happy and relaxed automatically diverts our mind from negative things. It's similar to the way exercise is great because it releases endorphins and keeps you away from depression and anxiety. Dating is certainly a great way to cope with your identity crisis. This doesn't mean though that you are running away from the crisis. On the contrary, you are accepting the crisis as a challenge and fighting it out in your own way. Dating also gives you an opportunity to understand your own identity and sexuality in a better manner. It might even end your identity crisis altogether as love sometimes makes us quite sure of who we are.
Confide in Your Partner
This is for trans men who are already in a relationship. Do not try to hide those issues from your partner. On the contrary, you should tell them all about what you are going through. You spend the maximum time with your lover so they understand you rather well and are best placed to offer you advice.
The mere act of support from a partner can take your self-esteem a few notches up. Romantic love and attraction are an integral part of our gender identity. When your partner will reaffirm their faith in your identity, it will certainly work towards resolving your self-doubts.
Confide in Friends
Friends are no less than a soulmate. A good friend is the best thing that can happen to us. They are someone who gives us unconditional love and support without judgment or prejudice. A trans man struggling with identity issues should certainly communicate his concerns to close friends.
In times like these, nobody can comfort more than a friend. It might not resolve the issue but just talking to your best friend and opening up your heart to them would make you feel light and unburdened. It would take away some of your anxiety so that you can be in a better situation to understand your problem.
Seek Support of the Trans Community
The transgender community is a strong support network for LGBT folk struggling with different kinds of issues. It has been at the forefront of transgender rights and has been instrumental in bringing up legislation across the world that recognizes the transgender community and makes it easier for them to seek education and employment without discrimination.
A trans guy struggling with an identity crisis should certainly seek the support of the transgender community at large. You could do this both online and offline. You can join a transgender forum and interact with other members of the community. Bring up your issues in the forum and you would certainly benefit from their goodwill and advice. You could also become a part of the local trans community in your area. Do some research and find out if your city has an organization working in the field of transgender rights. Get in touch with them. Communicate your concerns. Some trans community groups also organize regular get-togethers and events. These are a great way of bonding with other members of the LGBT community and sharing your mutual concerns.
Consult a Medical Professional
This should ideally be your last resort. Confiding in your partner and friends and the trans community support network should help you resolve the crisis. But if the issue keeps on getting worse and it's reached a stage where it's interfering with your day-to-day life, consult a medical professional.
The medical professional will be more from a 'mental health' background. It will be like a counselling and mental therapy session. But again, here is a disclaimer. You shouldn't be too optimistic about your problem being solved after seeing the professional.
Unfortunately, many medical practitioners are themselves prejudiced against the transgender community. They might try to talk you into accepting the gender identity assigned to you at the time of birth. It might even worsen your dysphoria because they will then essentially negate your experiences and identity, trying to tell you that it's something abnormal or wrong. So, this should be your last resort.