When it comes to a woman's beauty, the face is the first thing we think of. Then, our mind wanders to the perfect, sculpturesque female form. Rarely do we think of something as obvious as hands. In reality, hands can be a sure-shot giveaway of a person's grooming standards. While elegant and well-kept hands give the impression of a well-groomed woman, shabby and rough hands give the impression of a lady who is slovenly about her appearance. As a MTF transgender woman, it is very important to be particular about this aspect of your physical appearance. While you certainly can't change the size and structure of your hands, you certainly can improve the texture and look. And doing that is no rocket science either.
Your hands require regular care and attention, just like the face and body. For a MTF trans woman, the care required is even greater because your hands might not be conventionally dainty or feminine. But you are a beautiful woman inside out. The beauty radiates through your face and shines in your soul. Your external appearance is just a mirror that reflects your beauty and hands are an important part of that look. It's like completing a full circle. When your external beauty and internal beauty intertwine, the world is bound to notice your unique aura.
As a MTF trans woman, your hands are also a proud witness of the arduous journey you've undertaken.
This article gives you a few tips that would help you feminize your hands and make those more gorgeous and delicate looking.
Always Keep Your Hands Moisturized
Moisturize your hands regularly. This is the bare minimum essential for feminizing your hands. Even if we have normal skin, our hands tend to be drier than other body parts. Therefore, it is important to moisturize your hands immediately after a shower. You could use a good quality body moisturizer for the purpose or go for a hand cream. Many good quality brands these days offer excellent hand creams that have been formulated especially for the skin on your hands.
As a MTF trans woman, you want to leave no stone unturned in making arrangements for that special date with someone you met through a transgender dating site. But there are certain things about your appearance you can't change. You cannot change the build of your hand but you can certainly make those softer and delicate with regular care. If you have had a difficult life full of challenges, it's normal to have your hands go rough or coarse in texture. With regular hydration and moisture, you can improve the texture.
There are certain ingredients that work wonders for locking in moisture. If your hands are too dry and need extra attention, looks for creams and lotion that contain ingredients like shea butter and strawberry butter. The good old Vaseline petroleum jelly is also great for moisturizing hands! For extra moisture, use a thick hand cream or lotion at night before you go to sleep, and make sure you cover your hands with gloves later on. This will lock in the moisture while you are having your regular beauty sleep and you shall wake up to wonderfully soft hands.
Last but not the least, for any hand cream or lotion to work well, it's important to stay hydrated. Make sure you drink at least 10-12 glasses of water every day and consume salads and fruits like papaya, watermelon, etc on a regular basis.
Natural Oils Should Be Your Best Friend!
Natural oils can work wonders for hand care. You can replace a hand cream or moisturizer with one or better still, use it in addition to these things. Natural oils like olive oil, coconut oil, sweet almond oil, and avocado oil can work wonders for your hands. Just massage your hands with a drop or two of one of these oils whenever you have time and you are good to go. Natural oils have an additional benefit over moisturizers in that they would increase blood circulation, making your hands look more healthy and vibrant.
Whether you are using moisturizers or natural oils or a combination of both, one golden rule to remember is that with hand care, more is always better! Our hands tend to get dry real quick as we use these repeatedly for a number of tasks every day. This makes them more prone to dirt and invisible bacteria, making the skin harsh and somewhat rough. It is therefore important to pamper your hands with these natural oils whenever you can steal a moment or two.
Go for Regular Manicures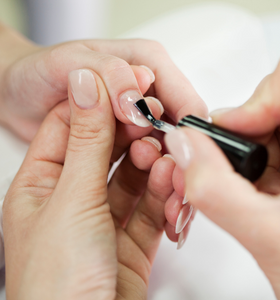 For a MTF trans woman wanting to feminize her hands, regular manicures are totally worth it. If cost is an issue, you don't have to go for over-the-top expensive ones. A basic manicure would do the trick. Going for a professional manicure has many advantages. The expert would get to know your specific concerns and customize a session accordingly. Regular manicures would not just keep your hands soft and supple but you would also get rid of any unwanted tan on your hands. Not to mention, it would ensure you always have those perfect nails.
A manicure is also a great option for a transgender woman who has a super busy schedule. A session at the parlour once a fortnight gets you sorted. It can also be a savior for emergency conditions. Let's assume you met someone interesting through a trans dating site and the two of you are planning to go on a date. But your hands are not in the best condition at the moment. In such a scenario, a great manicure can give you an instant fix. This doesn't mean that regular care and grooming of your hands is not needed but it can at least take care of that emergency situation.
Take Extra Care of Your Nails
Nails are a very important feature of a woman's hands. Therefore, as a MTF trans woman, it's important that you take extra care of these. A golden rule to follow is to avoid wearing your nails way too long or short. Keep experimenting with the length and with time you would find your ideal length. Nails that are too long look weird and are hard to manage as well. So make sure the length of your nails is just right.
While choosing nail polish, make sure it goes well with your skin tone and the general character of your hands. If you are not sure about what would suit you best, go for nude shades or lighter shades of colors like pink. Go for bright red nail polish by all means if you like but make sure you'd be able to pull it off.
The condition of your nails is also an important factor while choosing nail polish. If your nails are a bit unkempt and not in the best of condition, it's safe to go for muted and low-key shades. Wearing bright colors would just draw more attention to the imperfection of your nails and you don't want that.
Go for Hand Jewelry
The use of hand jewelry can give an ultra-feminine look to your hands. No guy could resist a set of soft smooth, well-manicured hands with trendy and chic hand jewelry. So a MTF trans women should definitely consider wearing bracelets and rings for feminizing their hands.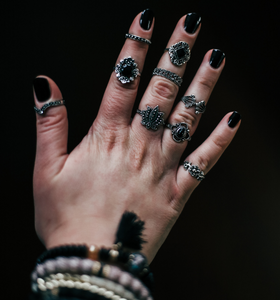 However, you have to be careful while choosing the right jewelry for your hands. Make sure you don't go over top with hands accessories. You want to look beautiful and elegant, not bizarre and weird. It's best to stick to just one or two simple pieces. If you wear too many rings, that would just draw even more attention to areas you are not very comfortable with.
The shape and build of your hands is also an important factor to consider while buying hand jewelry. Many MTF trans women already struggle with the issue of somewhat big hands so wearing delicate jewelry might draw even more attention to the size of your hands. Instead, go for hand accessories that are in sync with the size of your hands.
A chunky bracelet would be ideal for someone with big hands. The whole point behind wearing hand jewelry is to make sure the femininity of one's hands is accentuated. Finally, the most important thing is to go for hand jewelry that suits your personality. Every personality has a distinct aura. Your makeup, dressing sense, everything should complement that aura. The same is true for hand accessories.
Finally, just be proud of yourself and the journey you've undertaken. As a MTF trans woman, your hands are a proud testimony to the many hurdles you've overcome through sheer willpower and determination. The difficult times are over. Now is the time to celebrate and pamper yourself. Just like your beautiful soul and indefatigable spirit, your hands deserve every bit of that pampering.