The modern dating market is pretty saturated. It's all about ruthless competition. And the typical dating behaviour of a cis woman doesn't make things any easier. Well, an exception is always there but humans tend to interpret things through generalization. It's natural. So, generally speaking, a cis woman is in the habit of playing constant games and making men go on chasing her till they are exasperated, tired and totally confused.

The ambiguous and rather manipulative behaviour of a cis woman has also got to with the fact that she actually has no clue as to what exactly she is looking for. And that is the usual thing to happen when you are in a woman's body by default. You take it very casually, the whole thing about a woman. You are a woman because you have a woman's body. It doesn't mean for you much beyond that. You don't spend hours thinking about being a woman, pondering on the beauty and ecstasy of femininity. You just take everything for granted.

A transgender woman, on the other hand, is not a woman by default. She is a woman by will and her strong desire to be one. She doesn't let her body become an impediment in her journey as a woman. The extent to which she is willing to go in order to physically alter her body if of course her choice and decision. But she is a beautiful woman inside out. And that's because she lives and breathes femininity and womanhood. It's a matter of life and death to her. And that is precisely why getting a transgender girlfriend is in a different league altogether.

If you think dating a cis woman is the ultimate thing, you have probably just seen the tip of the iceberg. You have just seen the societal manifestation of what people call a woman. But if you want to date a real woman, you have to get a transgender girlfriend.

There are many reasons as to why you should date a transgender girl. Let's discuss some of these here:


She Understands Your Needs and Desires

Now, you might say that the same is true for your average cis woman. But it isn't. A cis woman just responds to your needs and desires in a way that is guided by her hormones. It's like because she is physically a woman and she needs a man, she lets you make those moves and then responds accordingly. She is just playing by her biologically identity. But she doesn't really understand your needs and desires.

A transgender woman, on the other hand, is in a unique position because of being born in the wrong body. She is a woman but because of her past experiences, she understands the male perspective and male psyche very well. She understands his needs and desires in totality. An average cis woman cannot even come near her understanding of men simply because they haven't had that intimate peep into both worlds.

Because a transgender woman has this in-built sensitivity, she responds to male attention and admiration with genuine and heartfelt gratitude. When in the last time you remember a cis woman responding with gratitude to your efforts at getting to know her? Most of them have probably either snubbed you off or treated you as if you were a creepy stalker who was harassing them.

To be honest, it's not entirely the fault of cis women either. They are bought up with a worldview that essentially sees men as perpetrators and women as victims. Therefore, their natural instinct is to ward off male attention by creating a halo around themselves or by playing games with men. A transgender woman is not bought up with that worldview. Because of her past life experiences, she has a very complex and nuanced understanding of how men are. So, she does not judge them. She responds to them with an open heart and understands their needs and desires.


She is Beautiful


There are a lot of societal myths about trans women concerning their appearance. These myths essentially brainwash you into believing that transgender women are manly, coarse and they do not bother with their looks or appearance. In reality, these are just a bunch of lies propagated by a hypocritical society that still finds it hard to accept a transgender woman.

The reality is that a transgender woman is way more beautiful than an average cis woman. If you check out the profiles of trans women on any transgender dating site, you would know what I mean. Even if you just google 'trans women' you would come up with images of women who could give a Victoria Secret model a complex.

A trans woman puts in a lot of effort when it comes to her appearance. She takes great care of her skin, knows how to apply make-up well and is always dressed up perfectly for the occasion. On the contrary, it is the average cis woman who is slovenly and careless about her appearance. How many cis women you know would turn up for a date in a pair of jeans and a casual t-shirt with a face that looks like they have just woken up and walked straight out of the door? Probably many. A transgender woman would never do that. She would go to great lengths to select an appropriate dress, footwear and accessories for the occasion. Finally, she would also select an appropriate look for her face. And when you do meet her, it will be like a Hollywood diva is sitting with you!


She Accepts You as Who You Are

With a cis woman, you need a lot of filters. You can hardly be your original self with her. She has way too many expectations. And in order to fulfil those, you are always trying to project an image. The real you have to be kept hidden. And that can get very stressing and frustrating for a man. None likes to go on pretending forever.

With a transgender woman, you can be the real you. She has had such a challenging life full of complex experiences. A trans woman has undergone so many turbulent emotional states that she is mentally very mature and understanding. She knows that a person has many sides. She won't necessarily judge you for things that are probably a very big deal for a cis woman. Even if she has certain doubts about something, she would not dramatically flare-up. She would coolly and calmly discuss the situation with you. A transgender woman would not get upset with you every now and then over trivial matters.

A transgender woman also has a more fluid conception of masculinity. She would connect with you as a person. With her, you don't have the pressure of constantly having to project a certain masculine image. With her, you can be yourself.


She Might be Your Soul Mate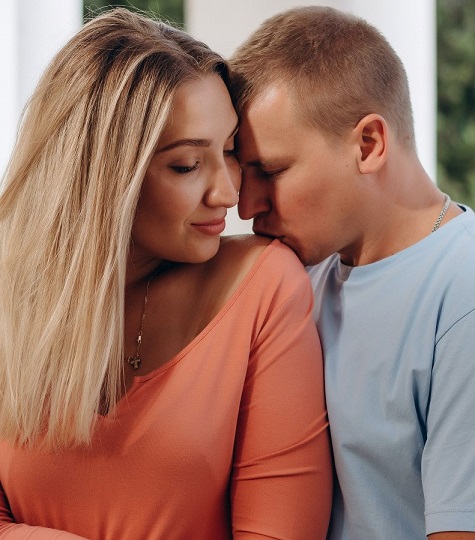 The whole idea of dating should be ideal to find a soul mate. But does the concept of soul mate really exist these days? It seems like a far-off thing from fairytales and the past. The disillusionment with the idea of eternal love has got something to do with the dating patterns of cis women and men.

Modern dating has become a game, a show off the venture. It is anything but love. It is natural that modern men have become disillusioned with the idea of finding love. And they just go from girl to girl, taking her out on expensive dates, buying gifts for her. But somehow, they lose that will to create a connection with the other person's soul.

A transgender woman might just be the soul mate you have been long looking for. She doesn't have the kind of expectations from you that a cis woman has. She doesn't play toxic games with you. She doesn't judge you constantly. With a transgender woman, you can be your real self.

And it's only when we drop the façade of presences that real love begins. Or at least the possibilities of it begin. In order to get anywhere even close to real love, two people have to communicate with each other's souls. And for that to happen, they have to connect with each other at a very genuine level.

Modern-day cis men and women are not falling in love with each other. They are just falling in love with each other's reflections that they chose to call man and woman. And that is why they are so unhappy in love. They end up thinking there is no real love. But when you date a transgender woman, you have finally met someone who is willing to look directly into your soul. She is beautiful outside but she is not shallow. She is also beautiful inside. She has a heart of gold. And if you are lucky, maybe in her, you have finally found the soul mate you have been long looking for.