You have undergone medical transitioning and now you are all happy and excited to live out your new identity as a beautiful and feminine trans woman. You would like to join a trans dating app or a dating site for a transgender woman. But before that, you have got to learn the nuances of the body language and social etiquette of a female.

You have a gorgeous figure; you know how to apply makeup well. You eat well, exercise and have an excellent skincare routine. All that is super cool. But you need to learn the art of feminine and graceful body movements.

Body movements play a very important role in accentuating the femininity of a woman. The way you walk, the way you move your hands while talking, the way you sit, all this tells a great deal about your feminine elegance and charm. Therefore, for a transgender woman, it is very important to learn the nuances of these body movements.

Of course, it is not something that you can learn overnight. It will require some time and a lot of effort and patience. But it is totally worth it. You can interact with other trans women through a transgender forum and get to learn about their experiences related to projecting a feminine image through body movements. You can even go through a transgender blog and read up information that is relevant to you as a trans woman.

The point is that the whole process of learning to feminize your body movements doesn't have to be intimidating or boring. It can be exciting and fun-filled and you can even meet new people in the process. Here are a couple of tips that transgender woman can utilize to feminize her body movements.


Your Dressing Sense is Important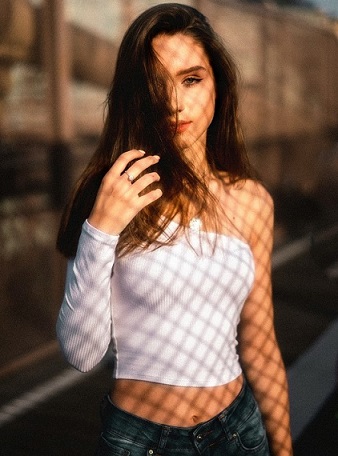 The kind of outfits you wear influence your body movements to a large extent. As a MTF trans woman, you should pay close attention to the kind of dresses you wear. If you are used to wearing jeans and trousers, chuck them off for something more feminine. The whole point is that you don't want your body language to come across as too aggressive or masculine. So, wearing somewhat masculine clothes won't help your cause. Go for more feminine attire like dresses and skirts while practicing body movements.

Now even with skirts, the kind of skirt you are wearing makes a huge difference. Long, flowing skirts look very elegant and feminine and also accentuate the delicacy of your body movements. Long flowing skirts with belts and a fitted top would do very well to define your body movements in a feminine way. A beautiful woman has walked straight out of a fairy tale; it's a little bit that kind of a look.

Avoid short skirts if you can as you might not be able to sit appropriately and that will again make your body movements seem like somewhat not so elegant and masculine. Also, as a trans woman, one should avoid baggy or overtly loose clothes. You want your body movements to be graceful and defined and baggy clothes just won't help the cause.

You could even check out various trans woman dating sites to see the kind of clothes other trans women are wearing and get inspired!


Keep your Body Movements Moderate

Many transgender women overdo the body movement bit in order to appear more feminine. You should avoid such exaggerated and over the top body movements. These will just make you look weird and not hot. For example, many trans women purposefully swing their hips way too much while walking. They think that if they do so, it will emphasize their hips and thus make them look more feminine. But it just looks odd. A transgender woman should just walk normally, gently with the natural in-built rhythm of a woman. Overdoing anything will not have the desired effect.

So, if you want your hips to be prominent, just follow the simple trick of putting on heels and walking normally. You would look much sexier and feminine this way. And your hips would sway naturally and effortlessly.

You can also check out the body language of various trans women icons through YouTube videos or Instagram. Notice their movements, how they carry themselves and you will definitely learn a lot this way also. You can also join an online transgender forum and get to learn from the experiences of other trans women.


Pay Attention to your Body Posture

For an MTF transgender woman, her body posture is very important when it comes to projecting a feminine image. A great posture can accentuate her attractive figure highlighting the prominent bust, small waist and curvy hips. Therefore, it is very important to learn the art of maintaining a good body posture.

You have to carefully observe other women around you and then try and get the basic feminine posture right. Avoid slouching under all circumstances. It just looks unappealing. Slouching is a common mistake that many tall trans women make. They get conscious because of their height and resort to slouching to make themselves appear a bit shorter. You don't have to do that. Tall trans women are just gorgeous. Just follow the usual, feminine body language. Don't overdo any of the movements. For example, some trans women have this habit of arching their back so that their butt looks more prominent. Please don't do that. That just looks odd and not hot.


Pay Attention to the way you Sit and Walk

The way a person sits and walks are the two most important indicators of their body language. You can practice all the fine-looking body movements and all that but if you sit awkwardly and walk strangely; your efforts will just not get you the desired result.

So as a trans woman, pay great attention to the way you sit and walk. This can of course be challenging as you have been used to the other way for a long time. And sitting and walking are such unconscious elements of body language that it might seem impossible to change these. But with a bit of effort, it is very much possible.

Always keep your knees together while sitting. Consider it a rule and follow it religiously. This is the basic principle of feminine body language that you sit with your knees together. Sitting down with your legs apart is a very 'male 'way of sitting. It certainly won't be flattering to your feminine posture.

Hold your head high while walking. Also, your elbows should be tucked in while you are walking. Tucked in elbows bring out the fluidity in your feminine body movements.


Practice Stretching and Yoga


For feminizing your body movements, it is very important that your body is flexible. You must have noticed that people who do a lot of weight training sometimes develop very stiff, tense muscles. They look lean and have a lot of strength but they don't have those graceful and agile feminine body movements. For a transgender woman, it is very important to practice stretching on a regular basis.

Stretching relaxes your muscles and also makes those more flexible. You can also consider learning yoga which is a complete body workout. The beauty of yoga is that most of the postures involve so much stretching that practicing yoga would give you that slender, feminine body type and also impart grace and agility to your bodily movements.

Yoga relaxes the body and calms the mind. A transgender woman who practices yoga gets even more intensely connected to her feminine core. Yoga also greatly improves your balance and posture. And all these things are very essential when you are trying to learn the nuances of feminine body movements.

The most wonderful thing is that yoga would also help you in achieving that super-hot, ultra-feminine figure. Regular practice of various yoga postures gives you those super well defined and yet natural-looking feminine abs. It would also accentuate your killer curves and increase your appeal by multiple times when you are dating someone through a a trans dating site!


Practice dance

Any dance form is the ultimate manifestation of flexibility and agility. There are dance forms that incorporate somewhat masculine movements but even those require a great deal of agility and flexibility.

For a trans woman, practicing any dance form is a fun way to make her body movements more feminine. You could pick up a graceful and popular dance form like Salsa that has such sensuous body movements and practice it with a friend or your partner. You could check out belly dancing videos from YouTube. Belly dancing is one of the most feminine and sensuous dance forms. The beautiful arm and hand movements in belly dancing could teach you a lot about delicate feminine expression and movement.

There are a number of dance forms you can try. You can even just listen to your favourite dance numbers, relax your body, and put your hands up in the air and just move. Dance is an amazing way to make your body movements more graceful and feminine. And the best part is it would all happen effortlessly. You just got to relax and feel the music. So, a MTF trans woman should certainly consider practicing dance in order to project that ultra-feminine image.