Committing the entirety of your life to a partner is something many people strive for, regardless of gender and orientation. While some might call it an outdated tradition, or criticize the patriarchal background that the custom carries, at the end of the day, marriage can also be a powerful step for a relationship.
For Felix and Helen Fenton, their wedding day was even more meaningful. Both of them are transgender - theirs is Britain's first double sex swap wedding. Felix said: "This is the first day of the life I always wanted to lead – as the right love with the right person by my side."
The Fentons' shared their journey with the public to show that transgender dating is just as beautiful as any other love.
This inspired Maxwell and Janis, who used to be Ian, and found her soulmate in Maxwell, to ask the Fentons to be their best man and bridesmaid respectively. For Maxwell and Janis, their celebration was not a traditional marriage, but a renewal of their vows.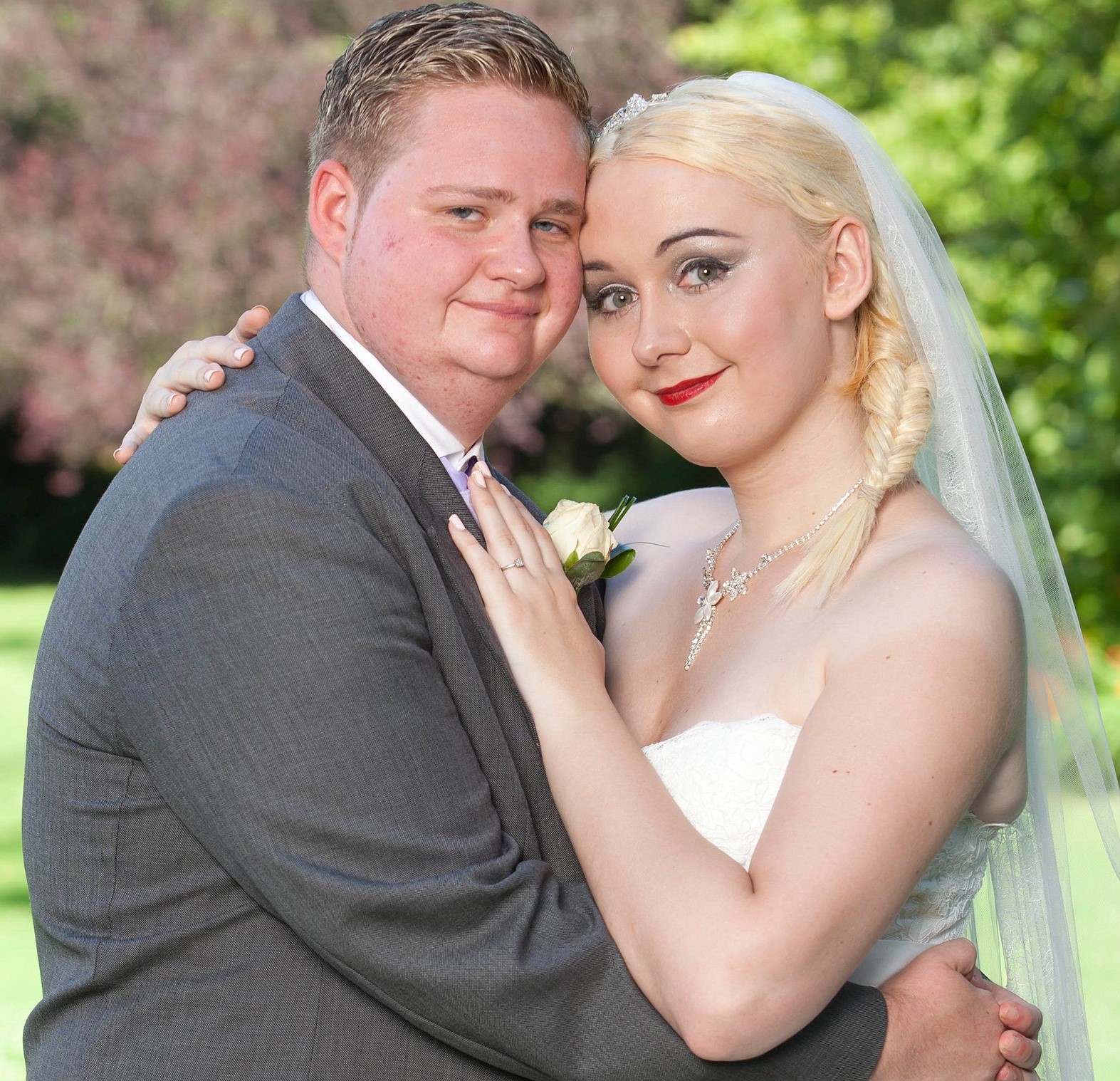 Jamie Eagle and Louis Davies are another double sex swap wedding who chose to broadcast their marriage: The 21-year-old bride, Jamie, was assigned male at birth, and the 26-year-old groom, Louis, was assigned female at birth. And given the struggles and the pain that often goes along with a transgender person's journey towards their true identity, they kept wondering whether or not their big day would ever happen. When it finally was on the horizon, they received a chance to be featured on Sky Living's "Forbidden Love" series.
"We thought long and hard before agreeing to it, because life is difficult enough for us, without TV cameras encroaching into our daily lives and struggles," admits Louis. "But in the end, that was our motive for going ahead. We want people to have a sense of what our lives are really like so that when they talk about transgender issues, they are more informed." Sky Living's finished documentation of the event offers an educational, insightful, and quite moving glimpse at Jamie Eagle and Louis Davies' special day.
Their stories of finding love as well as their true gender identity are one of many.
Daliah Husu, for instance, who was born Luis Miguel Morris, married her husband Ruben Husu. Daliah was just four years old when she realized she was different from other boys – she loved dressing up as a lady. She said: "My aunt used to call me 'little woman'. It was her way of saying: 'It's ok, there's nothing wrong with it'."
Britain's highest-ranking and openly transgender soldier, Army Captain Hannah Winterbourne married her partner, actor Jake Graf, in 2018. Instead of giving presents, their guests donated to the wedding fund as well as the surgery fund to support Hannah's journey.
Transgender celebrities also tie the knot: Transgender model Carmen Carrera and husband Adrian Torres feel truly blessed: "Honestly," says Carrera, "knowing that I was going home a married woman gave me a sense of peace... This wedding has given us a sense of freedom to be proud of what we have and who we are. Celebrating our love and what we call our 'modern, modern family,' lets us know that we belong here and that we also have a place to raise a family of our own on our terms. We feel truly blessed."
Meanwhile, transgender icon Janet Mock and Aaron Tredwell had a dreamy Hawaiian wedding on the island of Oahu. "I struggled to imagine what my big day would look like," admits Janet Mock, "because I'd never let myself believe I'd have one. I never imagined I'd be a bride." To that, the photographer groom, who proposed to Mock after five years of dating, said, "I know she felt that way, and I say it's ridiculous. I'm the lucky one in this relationship. I'll be forever grateful that she chose me."
As the examples of publicized weddings show, committing your life to your soulmate does not need to be a private affair. Several transgender brides and grooms have taken it upon themselves to wield the interest their transgender identities garner to further a political mission.
For instance, Russian trans woman Irina Shumilova and cisgender woman Alyona Fursova broke no laws when they married. The reason: Irina Shumilova wasn't able to amend her legal documents, which still identify her as male, before their ceremony. However, their union did cause ripples with the proponents of the 'gay propaganda' law in Russia: The couple has used the not-yet updated document as a chance to officially register their relationship since, under the Family Code of Russia, marriage is "a voluntary consent of a man and a woman."
In Havana, Ignacio Estrada and Wendy Iriepa, born as Alexis, joined their lives together in a simple civil ceremony on the same day as Fidel Castro's 85th birthday. They called the wedding a "gift" to the former leader. Then, they draped themselves in the rainbow flag of gay pride to ride through the streets of the city.
In Malta, transgender woman Joanne Cassar fought an eight-year legal battle for her right to marry, thus paving the way for herself and others. She eventually became Joanne Sciberras Edwards with her new husband Kurstin.
India saw its first transgender couple marry under the Special Marriage Act in May 2018. Surya and Ishaan K Shaan celebrated their big day with over 500 guests, including Ishaan's father, mother, and sister.
Advice If You, Too, Want to Have a Transgender Wedding
Well, first and foremost, you will need to find the right partner. Yet thanks to transgender datings sites that connect you to thousands of potential dates all around the globe, this is easier nowadays than it used to be ever before.
If your goal is to enter a long-term or even life-long relationship, however, you need to be open and honest about this to avoid falling in love with someone who does not share your life's dream of marriage.
Once you have found the perfect match and you are both ready to commit, here are a few aspects to consider if one or both of you are part of the transgender community:
— Beware of legal pitfalls: More and more countries and states have legalized same-sex marriages. So if you and your partner share the same gender after transitioning, you need to be aware of the legal circumstances in your country. If you are a male-female couple where one partner has transitioned, you might need to wait for name changes and gender changes to become official since you need a birth certificate to marry.
— Take care when choosing vendors and venues: As headlines in recent years have repeatedly shown, there are many businesses that do not wish to tell to the queer community. If you are a same-sex couple or a trans/genderqueer/nonbinary couple, there is a risk you will have to deal with bigoted attitudes. So choose vendors carefully. Ask around in your local community for recommendations. Ideally, you know other LGBTQIA+ couples who celebrated their weddings and will be able to help you.
— Consider what you share via social media: As instagramable as your wedding might be, keep in mind that the internet is home to a large number of narrow-minded people. If your ceremony includes transgender brides, grooms, or nonbinary partners, chances are you might attract harassment online. Be aware of this risk and talk through the implications with each other before you decide to share any photos or videos of your special day.
— Family troubles: Unfortunately, some family members might not approve of your union. This affects queer people and transgender couples alike. Not having one's family at one's wedding can hurt, and the affected partner will need considerable support even if the rift between them and their family members is not new. Yet be sure to talk about how best you can help your partner – not everyone appreciates someone coming in on a high horse and taking care of a situation. Only act when you know your partner wants you to.
— Cis partners require care, too: That said, let's not ignore the fact that cisgender partners in a trans wedding will need support as well. While they may have spent a long time with their transgender partner and even been a powerful ally for the trans community, this does not always prepare them sufficiently to handle the added stress of a wedding. A cisgender partner might be embarrassed or even enraged by other people's ignorance of transgender issues and concerns and thus have profound emotional reactions.
As different as some aspects of transgender weddings may be, they do not differ from any other wedding in this central truth: Both partners need care and support in the wedding planning process. While the actual day can be magical, the road that leads to this happy moment is often stressful and filled with challenges. That holds true for couples of all genders and orientations.
Remember the goal: committing yourself for life to the person you love. Focussing on the joyous outcome will help you both get through even the hardest and most difficult moments in your journey to marry.