When you are looking for your soul mate, you don't want to forcefully choose between a couple of people you met through friends. You probably have some specific qualities you are looking for in your future lover, you perhaps prefer a certain kind of look. So, it is natural that you want to talk to as broad a variety of people as possible so that the probability of meeting your soul mate increases.

And therefore, joining a transgender dating app or a transgender personal dating site might be the best bet for you. Online dating increases the likelihood of meeting like-minded people by many times. It can also be great fun as you can interact with different kinds of people from across the world. You would obviously not end updating all of them so it would be a mentally enriching experience. You will learn so much about different personality types and diverse cultural backgrounds.

If you would like to date a transgender person, then you should certainly consider joining a transsexual dating app or an online trans dating service. There are many reasons why online dating is a much better option than conventional offline dating. Let's take a look at some of them.


You are Super Busy

That's one of the most important reasons for joining an online dating site. You are always short of time. You are super busy with your work commitments, office meetings and at the end of the day, there is literally no time left to socialize. Every time you think of making that extra effort and going out, you just feel mentally tired and settle down for your couch and a glass of wine instead! Even if you do manage to drag yourself out, you simply don't have the energy to talk to random people and make new friendships.

In such a scenario, a trans dating app or a trans dating site is literally your best bet. The biggest advantage of online dating is that you need to make very little effort in terms of meeting people and communicating with them. At the end of a long day, you can just relax on the couch, login a trans dating site and start getting connected with people.

Online dating is indeed a blessing for singles who just don't have the time to go out and meet new people.


You are Shy and Introvert


There are people who are just not comfortable with face-to-face meetings, especially if these are of the romantic types. Shy and introverted people are somewhat socially awkward. So, if you are that kind of a person, it would be literally impossible for you to strike a conversation with random people at a party in the hope of finding a soul mate. Even if you are super attracted to somebody at a get-together, you just won't have the courage to approach them and initiate a conversation.

In such a scenario, transgender dating websites are just ideal for you. In online dating, you can communicate with a person through just textual chatting. So, you don't have to deal with the awkwardness of face-to-face interaction. On a trans girl dating site or a trans dating app, you can take the interaction forward slowly, at your own pace. Online dating is perfectly suited to the temperament of shy and introverted types. There is no pressure on you to go out of your way to talk to somebody. If you start getting along well with somebody and would like to see them for a face-to-face meeting at some point in time, then it's great! But even for that, there is no pressure on you that you have to meet someone for a date outside. You can just keep things limited to the online medium for as long as you wish.


You are Afraid of Rejection

Now, this is a common reason behind joining transsexual dating sites. You are a self-conscious person and because of negative past experiences, you want to avoid meeting a potential love interest face to face.

Maybe, you have faced rejection in the past and are therefore scared of striking conversations with someone you are attracted to. Online dating then is the best and safest route for you to follow.


You Have Very Specific Criteria for the Kind of Person You Want to Date

When you are meeting someone through your friends, you have a limited pool of people to choose from. Even if you happen to be the charismatic sort and can confidently strike a conversation with strangers at a party, your options are still limited. Not everyone likes talking to random people. So, you will probably just end up being labelled as a freak by some!

On the contrary, if you join a transgender dating site or an online transgender forum, your chances of meeting the love of your life increase manifold. You have very specific criteria for the kind of person you are looking for. You are super-specific with regard to what their physical appearance should be like, what their educational background should be like and what kind of mindset they should have. Now it's common sense that you can find such a person only after a lot of hit and trial. That is, you have to be able to converse with a really large number of people so that the chances of meeting that right person increase So, for you, a transgender dating app or a transgender dating site is just ideal.


Blind Dates Are Not Your Cup of Tea

Blind dates can be fun and exciting for some. But that's only a very specific kind of crowd that likes going all crazy and haywire. It's not for everybody. If you are not comfortable with the idea of a blind date, then online dating is for you.

Let's accept it; a blind date is just a super bizarre phenomenon. Ok, you meet someone you don't even know and then the two of you are super bored! It's probably awkward and you don't quite know what to say to each other because you just don't have any prior connection. And love or even attraction requires some kind of a basic foundation.

An online ts dating service or a ts dating app lets you precisely build that kind of foundation. You can spend hours, days, even months talking to somebody. You get to know someone slowly over a period of time. You figure out their likes, dislikes, temperament, everything. The attraction sort of grows on you with time. And then when you finally go out on a real date with your love interest, it would be nothing less than magic.


Online Dating Can Give You New Friends!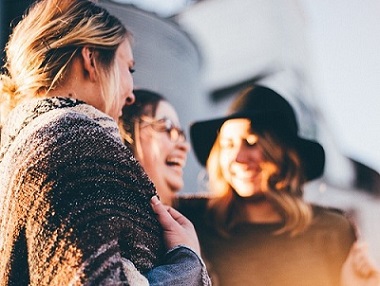 If you are the kind of person who likes making new friends, then online dating is just the right thing for you. Free transgender dating sites or transgender dating websites would enable you to meet such a fascinating array of interesting people from all across the world. And obviously, you can't date all of them! Some of them become your good friends.

Looking for a love interest or a partner is the obvious reason behind joining an online dating site. But it has so many benefits you never thought about. It can even give you friends for a lifetime. And that's such a beautiful feeling. Now, you would say that you can make friends offline as well. Of course, you can but it's just not the same thing. The probability of meeting so many exciting and interesting people so easily is very limited offline.


Online Dating Saves Money

Now, this is a big advantage with online dating. If you are trying to look for your love interest offline, then you should be ready to part with a lot of cash! You will try out dating different people. Most of these will not work but you would have already spent a lot of money.

If you join a transsexual dating app or a transsexual dating site, you can literally save a lot of money. All you need is a computer and a decent internet connection. And you are good to go. Of course, when you do find your love interest, then money will have to be spent. But during the process of searching, you literally don't have to spend anything. And that's a huge advantage.


Your Personality isn't that Great

A great personality is a prerequisite for impressing people offline. You have to be the kind of person who walks into a room and everyone's eyes are on them. And it's not just about looks. There has to be a certain magnetic pull, a certain irresistible charm to your personality.

So, if you think your personality is not too much to talk about and you just can't impress people when you meet them face to face, then online dating is good for you.

Whether you have that magnetic personality or not doesn't matter much in online dating. In such kind of dating, people usually have specific criteria about the kind of person they are looking for. It is more about your education, profession, hobbies or interests. So, from thousands of profiles available on a transgender dating site, you can select a few that match your interests. So, in online dating, you don't have that kind of pressure to exhibit that magnetic personality or something. You just go with the flow. So even if you are an average looking person with an average personality, the chances of finding your soul mate are high.