Gender transitioning in a transgender person is a complex process. There are two main components at work here, social transitioning and medical transitioning. Social transitioning involves coming out as a transgender in front of society. It means asserting one's new gender identity. So, someone who was born a male biologically will assert their gender identity as a trans woman and vice versa. Social transitioning often begins before medical transitioning. In fact, some transgender folks prefer to live out the life of their new gender identity without making any physiological changes. Instead, they adapt to their new gender by dressing up, voice projection and by trying to adopt the mannerisms and behaviour of the gender they feel they belong to.

But a vast majority of transgender people undergo some sort of medical transitioning. For a trans person who was assigned female gender at the time of birth but feel that they are male, medical transitioning can go a long way towards helping them balance their life and relationships. Having a body that stands at odds with the gender he strongly identifies with can be a source of acute distress to a trans man. This can induce feelings of gender dysphoria; a state where a transgender person's biological gender becomes a source of agony to them and they even strongly desire a change in the sexual and bodily manifestation of that gender.

Medical transitioning can indeed offer a new lease of life to a trans man undergoing gender dysphoria. It can also do wonders for his love life and relationships. If he wants to date somebody through a transgender dating site or a transsexual dating app, he no longer has to worry about her biological characteristics standing at odds with his new gender identity.

Whether you are a cis woman wanting to date a trans guy through a trans dating site or a layperson curious to know more about transgender people, it is important for you to understand the basics of female to male gender transition. Once you understand the kind of transformation a trans man goes through in order to embrace the male gender biologically and socially, you'd be able to appreciate and understand him in a much better way.

This article lists out the most important components of female to male gender transition.


Gender Reassignment Surgery begins with Hormone Therapy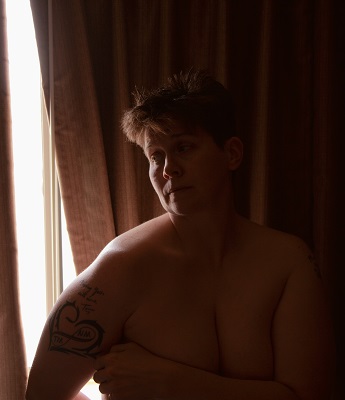 There are different kinds of procedures and treatments involved in gender transitioning from female to male. Gender Reassignment Surgery is the blanket term used for all such treatments.

In female to male gender transition, medical transitioning usually begins with hormone therapy. During this therapy, the transgender person is giving the male hormone testosterone. Hormone therapy is used to induce physical changes in your body so, in the case of a female transitioning to a male, it will induce the biological characteristics of the male gender in their body over a period of time.

Once you are administered hormone therapy, you start noticing increased body hair growth as well as facial hair growth. You might also notice the loss of hair on the temples. Receiving the male hormone testosterone can also deepen your voice, giving it a more masculine texture. However, if you are into singing, your voice might start cracking for a while and you might lose your singing range while you are transitioning. Male hormone therapy can also thicken your skin, thus making you more tolerant of cold.

Testosterone would also stop your menstrual cycle. This would generally happen within three months of receiving your dose. It will also increase your sex drive as well as appetite. Experts say that if hormone therapy for female to male transition begins before the changes of female puberty start, then female biological characteristics like the development of breasts can be avoided altogether.


Mastectomy or Top Surgery

Mastectomy or top surgery is the most common surgical procedure for trans people undergoing female to male transition. In this procedure, unwanted breast tissue is removed in order to flatten out the chest and give it a more masculine appearance. Depending upon your body structure and specific needs, the surgeon can utilize a number of techniques to achieve the desired results.

Many trans people undergoing female to male transitioning opt for Mastectomy as the only surgical procedure. The reason for that is that it is a very safe procedure and one that can be performed by a relatively large number of surgeons.

Facial & Body Masculinization Surgery


Now, this is an optional procedure. Trans men who desire a close to perfect and well-chiselled masculine face can opt for Facial Masculinization Surgery. This surgery utilizes a range of techniques and procedures in order to give the face a more masculine contour. A combination of techniques like cheek augmentation, rhinoplasty, forehead lengthening, jaw contouring, etc., can be utilized, depending upon your specific needs.

Body masculinization surgery can be used by those who are looking for the perfect male physique. This surgery utilizes a broad range of techniques to target fat deposits in those specific areas where the female body usually accumulates fat like thighs, breasts, buttocks, etc. The liposuction technique is then utilized to transform your feminine hourglass figure into a masculine body type. The sought-after masculine body type involves broad shoulders, a super flat stomach and little or no fat in the lower part of the body. The surgery tries to replicate this kind of body structure for you.

Facial and body masculinization surgery can be great for trans men who are looking at dating someone through a transsexual dating site or a transgender dating app. Looking like the perfect guy you dreamed you always were can do miracles to your self-confidence. However, it is important to maintain this great body through proper diet, exercise, adequate water intake and ample rest.


Bottom Surgery

Bottom surgery is the final step in your transitioning process from female to male. Also known as Gender Confirmation Surgery, this type of surgery involves the construction of a penis through the procedure of phalloplasty or metoidioplasty. Before undergoing this procedure, a trans person might wish to undergo a hysterectomy. In partial hysterectomy, the uterus of the person concerned is removed. They can also opt for additional and more complex procedures in which fallopian tubes and ovaries can also be removed.

Bottom surgery is quite complicated and it is only a very experienced surgeon who can perform this type of surgery. Not all trans men undergo bottom surgery. It is also a very expensive procedure. The concerned person undergoes detailed counselling before they decide to opt for bottom surgery.


Medical Transitioning is just a part of Transitioning


This is the most important point to understand. When we talk about a trans person transitioning from female to male, medical transitioning is just a part of it. Transitioning is a complex procedure that involves social transitioning. Even before undergoing any medical procedure, a trans man begins to come out in the open by dressing up as a guy, by creating a bulge in the genital area by using a rolled-up sock or through various prosthetic devices and by wearing clothing that camouflages the bulge in the chest area.

A trans man closely observes the body language and mannerisms of other men around him and then tries to adapt accordingly. He regularly checks out the latest trends in male fashion and then picks up male apparel that is suitable for his body type. He also joins a trans dating site or a transsexual dating app to look for a prospective partner. In fact, he is always on the lookout for the best transgender dating sites. A trans man also goes through a transgender blog and becomes part of a transgender forum where he gets to learn from the transitioning experiences of other trans guys.

Medical transitioning is just a part of the entire transitioning process. What matters most is the confidence with which transgender guy can embrace the male world.


It's all about Striking a Balance

Balance is the underlying principle of life. It's the same with female to male transitioning. A FTM trans guy needs to find the right balance. Some trans men try to overdo the masculine guy part. They go all over-aggressive, domineering and try to feign insensitivity just to show how tough they are. That's just not needed. Being a man doesn't mean that you have to feign some kind of toxic masculinity. Just like everything, hyper-masculinity has some negative traits which need to be avoided.

A real man is all about empathy, kindness and magnanimity of heart and spirit. He is a tough guy on the exterior but his heart is soft and vulnerable. He can do anything to take care of his lady love and also has compassion for human beings in general. This is the kind of guy a trans man should want to post transitioning. And this is the type of guy any woman would fall for once she meets him through a transgender dating site or a transsexual dating site.

During transitioning and after it, a FTM trans guy has to find his unique sweet spot and project a masculine image accordingly while he is dating someone through a trans dating app or a transsexual dating site.