When you've finally made peace with your identity and are ready to come out in the open as a trans woman, it's a special moment of your life. You feel exhilarated and happy. But there still might be certain things bothering you. If you have a female partner who doesn't know about your real identity, this can become a great source of stress. You have spent a considerable portion of your life with them. So they mean a lot to you. You definitely want to embark on your new journey but you don't want to hurt them in the process. As a trans woman, you want your female partner to be a part of that journey. While this isn't easy, it certainly is not impossible.
People who really love us do so unconditionally. It's not just for looks or not even for our gender. When a relationship reaches a certain point, our partner begins to love us unconditionally. A sudden change in our life path might unnerve them but they will certainly walk with us through thick and thin. At the same time, a lot of understanding is also required on your part as a trans woman that this isn't easy for your partner. The entire dynamics of your relationship will change. You will still be close but in different ways. So she will take her own time to digest all this. And you need to give her that time and space.
Coming out in the open as a trans woman is not the end of story for your relationship with another woman. Irrespective of whatever circumstances under which that relationship was forged, it has now become an integral part of your life. Your being a trans woman won't make your love for your girlfriend or wife any less. So it's important to be honest with them and not hide things. That is the first step towards reinventing your relationship while embracing your identity.
It can all seem baffling. But you can certainly save your relationship with a female partner after you've come out as a trans woman. This article tells you a couple of ways in which you can do so.
Give Her Time to Adjust to Your New Reality
You cannot suddenly announce to your woman that you are transgender. You need to do this slowly and gently. You can't just bombard her with the news on the spur of a moment. You got to prepare the ground first and then slowly break the news. She might just not accept it at first but don't lose all calm and panic. Give her time and her acceptance will come by.
The point is to be gentle, sensitive, and tactful. Remember it's not just about you. It's also about her life. This entails a big change in her personal life as well so she has got every right to take some time and think through things.
You should slowly start sharing your feminine side with her. First, she might feel awkward but then she would get used to it. If she gets upset or mad at your revelation, just don't bring it up again for some time. Once you feel that she is in a better zone, things can be discussed again.
When you start dating someone, you don't tell all about yourself in one go. You go step by step. It's the same with communicating your identity to your wife or girlfriend. You have to work on it over a period of time. It just can't happen overnight. If you are too hasty and impatient, you might just end up prejudicing them against you forever. And you don't want that.
Assure Her of Your Love Repeatedly
When you communicate the truth of your identity to your wife or girlfriend, she might just feel betrayed. This is a natural thing to happen. So take time out to appreciate her and tell her how much you love her. This will reassure her of your unwavering commitment and sincerity, no matter what.
Take time out to express gratitude for how she has changed your life for the better. Remember the best of her qualities and remind her of those every now and then. When your partner sees how much you love and adore them, all their fears and insecurities will melt. And they will understand that your relationship is rock solid and nothing can come between the two of you.
Tell her that she will be the first one to know everything that's happening in your life. There are no secrets between lovers. Assure her of that.
Do Not Freak Out if She Gets Uncomfortable
A relationship is always about two people. You might feel that you are the center of the world and there is nothing greater than your problems or issues. But that's simply not true. For your wife or girlfriend, her concerns are very important and you have to respect that. Once you've communicated to her your identity, she might get uncomfortable around you.
It's possible that she avoids you, doesn't want to talk and withdraws into her own space. Do not judge her for that. Focus instead on how to positively deal with the situation. Try getting her involved in activities that the two of you enjoy like playing some sport together or watching a movie. Try to bond with her as usual and things will work out.
Above all, be patient. It's a big change for her so she will get uncomfortable at times. Understand that and be empathetic.
Start Opening Up to Her Once She Has Fully Accepted You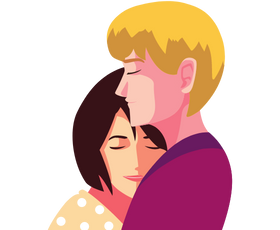 Once your wife or girlfriend has fully accepted your identity, it's time to open up about your new self. As a transgender woman, your personal life is going to be a certain way. You want to revel in your feminine side and are perhaps even considering medical treatment to develop the physical characteristics of the female gender. Whatever it is now is the time to start opening up to your partner. Once you feel she has really accepted you for good, start sharing all your deepest desires and plans for the future with her. Share your insecurities and fears too. This would make her feel special and valued as a partner since you are making her a witness to the deepest emotions of your heart.
Maybe, you want to join a transgender dating site and start meeting people. Communicate this to your partner. If she is uncomfortable with the idea, then just drop it for a while. Once you bring it up again, assure her that you are only looking for friendship, that you won't go for anything sexual.
It's a tough call. As a transgender woman, you might be tempted to get into a fling with a guy you met through a ts dating app. There is nothing wrong with it if your female partner is open-minded enough to accept this kind of liaison. But if they are not, then you have to observe restraint. At the end of the day, it's all about your priorities. If saving your relationship is important for you, then you got to keep some boundaries. Communicate your needs and wants to her but also take her feelings into account.
Start Bonding With Her As a Woman
This might be difficult. She started dating you from a heterosexual perspective so she might not even be comfortable with that kind of equation. But if you think she has accepted your identity, there is no harm in trying. Try to develop your mutual chemistry as a woman. Bond with her over girly activities like trying out a new makeup look or hairstyle. Go to the salon together to get yourselves pampered with a manicure, pedicure, or hair spa. Or give each other a relaxing pedicure at home. This is a great way to initiate female bonding.
Go for ingredient shopping together and then try out new homemade skincare routines together. Again, all this is not as easy as it sounds because she is used to looking at you in a different way altogether. So go slow and gentle. But once she starts bonding with you as a woman, a different kind of chemistry will come into play which will be nurturing and therapeutic for your relationship.
Encourage Her to Increase Her Awareness on Trans Issues
Encourage your partner to learn more about transgender individuals. She could go through a transgender blog or read other material available online regarding the transgender community. She could also join a dating site meant for transgender people and communicate with trans individuals.
Once your partner gets to know more about transgender people, her prejudices would automatically meltdown. She would understand and appreciate your struggles better. Your girlfriend or wife would then view everything from the right perspective. She would no longer blame you for keeping her in the dark for long because she now understands that it's not something in your control.
This is the best way forward for your relationship. Encourage her to understand the issues surrounding trans people and be vocal about these. Once she truly comprehends your life journey, she will support you with all her heart and soul.