It is completely normal for Trans Men do not want to get gender reassignment surgery for numerous reasons. This doesn't mean you will have to look like a female for the rest of your life. Here are a few ways to make yourself look less feminine without having gender reassignment surgery:
Cutting Your Hair
Long hair is one trait generally associated with women and girls. So, if you want to look less feminine you should consider getting a haircut. The right haircut will highlight your face's bone structure and make you look manlier. For the best haircuts, consult a barber or a hairdresser. These persons are trained in cutting hair and getting a botched haircut from yourself or a friend will make you look untidy or poorly groomed.
Binding Your Chest
Breasts are another trait associated with women and girls. If you want to look less feminine, they will have to go. But remember this is about looking less feminine without getting gender reassignment surgery. One way to reduce the appearance of your breasts is by binding them. There are many methods and tips available online for binding your chest but be careful not to choose any that may be harmful or may cause discomfort.
Getting a New Wardrobe
The right wardrobe can without a doubt make you look less feminine. Please note that this does not mean baggy pants, beanies, and oversized shirts. This simply means choosing the right kinds of clothes. Certain patterns on shirts can accentuate the bulge your breasts make, such as stripes, and should be avoided. Pleated pants and skinny jeans hug your curves and make you look feminine. Avoid those and opt for straight cut pants that will hide your bum and your curves. Trade in those flats and heels for sneakers, boots and male shoes. Accessories such as belts and watches can also make you look more masculine.
Packing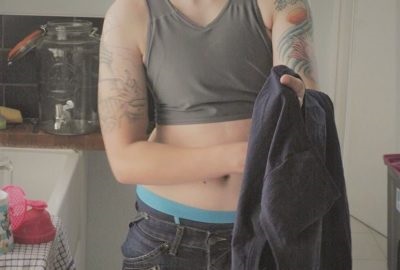 To be taken seriously as a man, you must have a bulge. This is the outline of your penis in jeans or shorts. Because you are not getting the surgery, you will have to improvise. Luckily, there are many underpants that come with built-in bulges and are designed specifically for FTM Transgender Men. You don't have to pack every day, but it certainly makes you look much more believable. You will have to decide if you want to hard pack or soft pack but this all depends on your environment. If you have a hard pack everywhere you will look like a pervert. So please bear in mind your surroundings and the people that will be around you.
Adapting Masculine Mannerisms
The way you walk, talk, dress, sit, stand or even eat can make or break your efforts to look less feminine. Men usually maintain good posture and sit with their legs open. They also walk tall, without swinging hips, with their shoulders back and heads held high. Certain phrases and terms of endearment are rarely used by men and should be avoided. Try to observe the men in your surroundings and mimic their movements and soon you'll catch on to what society deems as "masculine behavior". Making yourself look less feminine without getting "the surgery" is not entirely difficult and if done properly, no one will be able to tell the difference!